Even if you jump off the drone, will not you lose it absolutely?
I recently dropped a drone made up of BETAFPV 's F4 flight controller on the meadow.
But if you are a Brushless Delon like UR 65, that worry is unnecessary. You can sound a sound from the motor and find an unmanned plane.
I will emit sound from a motor with a brushless drone like UR 65!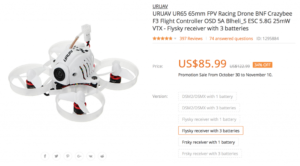 Buzzer set using "BLHeli – Configurator"
"BLHeli – Configurator" has Chrome application, please install. It may be thought that the version is installed on the PC, but I will omit it this time.
When using "BLHeli – Configurator", you need to connect the battery, so please prepare in advance.
Let's connect the battery to the drone and connect it to the PC with USB. Next, enable "BLHeli – Configurator" and select ReadSetup.

I think it will be the screen below.

There are two changes.
Beacon strength:Sound size → MAX
Beacon Delay:The time from ringing down to sounding → 1minutes
Below is the image after setting.

The motor rotates in reverse but please do not change.
Let's review the lesson!
This setting is limited to brushless drones. Be careful as the drone of the brush motor will not sound.