I was looking for a smart watch capable of LINE notice but I found a smart watch in China called "Xiaomi Amazfit Bip" when I searched variously because I thought that the time to buy "pebble time" was late.
LINE notification is also possible, and the battery is also a wonderful item to have about a month (45 days) with one charge.
LINE, phone, application notice is a big success!
Xiaomi Amazfit Bip
What is possible with Xiaomi Amazfit Bip?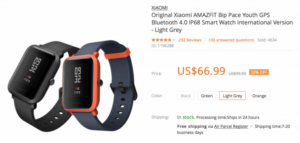 Specification:
Specification: Brand: Xiaomi Amazfit
Bluetooth Version: Bluetooth 4.0
Waterproof: Yes
IP rating: IP68
Functions:
Bluetooth calling: Phone call reminder
Messaging: Message reminder
Health tracker: Heart rate monitor,Sleep monitor
Operating mode: Press button
Type of battery: Lithium-ion polymer battery
Battery Capacity: 190mAh
People: Female table,Male table
Shape of the dial: Rectangle
Case material: Polycarbonate
Band material: Silicone
Product size (L x W x H): 19.5*3.5*0.8cm
Package size (L x W x H): 5*5*5cm
Product weight: 0.0320 kg
Package weight: 0.2070 kg
With Bluetooth connection you can connect with Android 4.4, iOS 8 or higher.
Main Features:

Sleep monitoring:
Carefully monitor your sleep quality
Heart rate monitor:
Considerate monitor contact designed on the behind of the watch, take care of your health anytime and anywhere
Bluetooth 4.0:
Connected with mobile phone App, stable, fast and super low consumption
1.28 inch with 2.5D Corning Gorilla Glass screen
Best suitable screen size with high definition picture displaying gives you great experience
The monitor is always on and is equipped with a touch panel. I was surprised to have such a smart watch.
GPS is also included and the price cuts off $ 70! It is not the case to buy Apple Watch!
Xiaomi Amazfit Bip There are Chinese version and international version
There are two types of Chinese version and international version as points to note when purchasing, so do not make a mistake.
The difference is that there seems to be a difference between the menu and Chinese or English, but now it seems that you can use it without any difference by updating the firmware.
Xiaomi Amazfit Bip also has abundant accessories
There are plenty of related items such as replacement belts and covers, so the place you can customize according to your preference is also attractive.
Xiaomi Amazfit Bip has arrived
Feelings and texture seen with Xiaomi Amazfit Bip
I entered a white box like a popular iPhone recently.
It took about three weeks to deliver it from the warehouse in Hong Kong, but the seller's reaction was wonderful and there was no big problem.
I actually turned on the power and watched the cover. Even if it is very light it does not matter at all!
Even if the battery gets GPS or heart rate, it will decrease 3-4% in one day
Let's review the lesson!
"Xiaomi Amazfit Bip" I bought it with this momentum.
However, it is cheaper than Apple Watch, so if you do not think you need to respond to operations on cameras, messages, etc., why do not you consider "Xiaomi Amazfit Bip"?
Personally, I think that you should try it from price and function.