I bought "FPV Goggles for Eachine EV100".
It was a satisfying result by checking whether myopia or IPD (pupillary distance) is in advance within the adjustment range. Compared with EV800D, it is better not to have a tripod, so the outdoor whoop became easier.
Because the bag became light, the burden on the waist was relieved and I am very satisfied personally.
Eachine EV100 DVR
I bought a DVR set of "EV100"!
This time I purchased EV100 + DVR.
I think that the recording function is essential to FPV, so I bought it as a set of DVR, but the price always fluctuates. Because it may be cheaper to purchase separately, please pay attention to the selling price. Please consider purchasing method as necessary.
Please check whether myopia or IPD (pupillary distance) is within adjustment range at the time of purchase, and consider purchasing if EV200D or EV800D is out of the applicable range.
Comparison of EV100 and EV800D Both are wonderful!
I tried using both EV800D and EV100, but I felt that both goods were great.
Of course, the EV 100 assumes an adjustment range for nearsightedness or IPD (interpupillary distance), but both products have advantages and disadvantages.
Since EV800D can be used as a monitor, I think that it is the best goggles for people with myopia and those who are not good at FPV. Moreover, it can be said that it is a product with no mistakes.
Compared with EV100, it is advantageous that there is no clear image or noise.
The only disadvantage is that batteries can not be exchanged, but from the result of disassembling the contents it is judged that operation with lithium ion battery is possible as with EV100.
The EV100 is easy to carry! This is a feature not found in the EV800D. If you play FPV outdoors with EV800D, screens may be irregularly reflected by sunlight, but diffuse reflection of the screen does not occur with EV100.
As it comes with a slightly noisy antenna, we recommend replacing the antenna.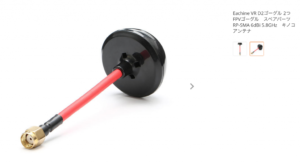 Product list introduced this time!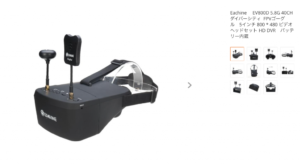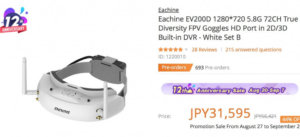 How to use Eachine EV100 DVR!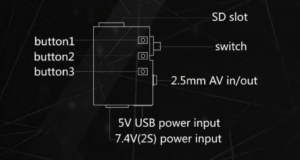 Since it is difficult to understand how to compare with EV 800 D, it supplements it.
switch:「I」Input 「O」Output
When recording, select "I".
The red LED will light up when the power is turned on. When you press button 1 for a long time, the red LED flashes when recording starts. To stop recording, press button 1 and wait with the red LED lighting.
Select "O" when playing. The 3rd beep sound plays back to playback mode.
Let's review the lesson!
I would like to also use EV200D, but because it is expensive, I have not purchased it.
you buy EV 200D from the beginning you do not need to purchase other items.