Brushless "URUAV UR 65" gained overwhelming popularity when investigating micro drone.
I met UR65 while I was worried about what to buy.
It has brushless motor and camera with OSD. Also, you can set it freely with "Betaflight", so you can fly outdoors.
I purchased UR65.
What is Brushless Micro Drone of URUAV UR65?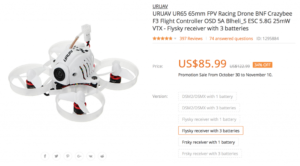 URUAV UR65 No transmitter(BNF) Brushless & OSD
First of all, please watch this video. The second half is quite interesting!
When I saw this video, I felt the brushless motor was wonderful. Compared to the drones that Mocha has, the power is totally different ….
Anyway I think that UR65 is good if you buy a brushless motor type.
The next video is Mocha! I am still poor.
contents of standard package
URUAV UR65 65mm FPV Racing Drone BNF Crazybee F3 Flight Controller OSD 5A Blheli_S ESC 5.8G 25mW 48CH VTX By Bamggood
Standard version  :
1 x Crazybee F3 FC (Frsky and Flysky option)
1 x 5A 4in1 ESC
4 x SE0603 KV17000 Motor
1 x 31mm propeller(4cw+4ccw)
1 x AIO Camera & VTX
3 x 3.8v 250mah 30C/60C battery
1 x 1S06 6 way Lipo/LIHV charger
1 x Propeller disassemble tool
1 x Screwdriver
BNF Why do you need a separate transmitter. Also, you can choose the 3 pack version and flight controller type, so let's check firmly when purchasing.
Those who have around T8SG think that Prop will not be troubled. (Personally feeling waiting because T12 is anxious)
If you set it up, you can turn it back by turning only two motors when turning over, called turtle mode, so I think that it is enough if there is only this already.
It seems there is a thing that the frame will be broken before the motor, so I think that you can consider it together at the time of purchase.
UR 65 spare parts list
When purchasing UR65 you can also purchase spare parts. Below is the banggood link.
Recommended is frame & motor! It is convenient to have some expendable items. There are also hands to buy two more.
URUAV UR65 FPV Racing Drone Spare Part 65mm Frame Kit
URUAV UR65 FPV Racing Drone Spare Part SE0603 17000KV 1S Brushless Motor – 4pcs
URUAV UR65 FPV Racing Drone Spare Part Propeller 31mm 3-Blade 2CW+2CCW
URUAV UR65 FPV Racing Drone Spare Part 3.8V 250mAh 30C/60C Lipo Battery
The flight time of UR65 should be about 2 to 3 minutes, please replace the HV battery
Because we are watching the drone, knowledge alone is catching up too fast. Although UR65 is performance, possession of the battery is considered to be short, the flight time is about 3 minutes.
It is a good thing to purchase and play around 300 mAh HV batteries. It can be purchased with BETAFPV.
Since you can not buy it with banggood, look for it on the net and look at it.
Powered receiver for HV battery is required for UR65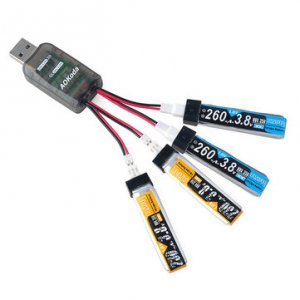 AOKoda CX405 4CH Micro USB Battery Charger For 1S E010 Tiny Whoop Lipo LiHV Battery
You can charge 4 items at a time from USB. Although purchasing three battery packs includes a charger for HV batteries, it is recommended for those who bought a single battery version.
Let's review the lesson!
The setting of FC is also essential for UR 65, but I think that there is nothing to worry about as many things come out when viewed on the net.
Indeed the future micro drone is the era of brushless. There are useful multi-protocols such as JumperT12 for Propo, so it is good to lower the threshold slightly.
I think UR65 is a very excellent equipment.
I got it in about 12 days after ordering with Banggood. (I do not remember the date I received it correctly …).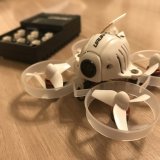 No buzzer required for UR 65! The brushless motor can produce sound!